We took the tube to Baker Street station (the Bakerloo line). When we got out of the station we saw this man: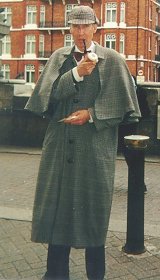 He gave away cards about the Sherlock Holmes Museum. We planned to visit it anyway, so Adam went to Madame Tausaud's to stand in the HUGE queue for us, and we went to the Museum.

The famous address is 221b Baker Street, just across the station. It's opened every day , from 09:30 till 18:00. The admission fee is 5 pounds for adults, 3 pounds for children. There's a shop & a retaurant inside. I bought a book there.

Here's a map that might help: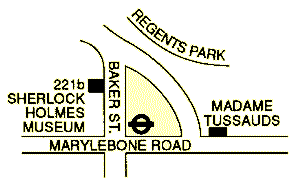 I highly recommend it for Sherlock Holmes fans, but others won't enjoy it as much.
The house is a "recreation" of Holmes's apartement (bedroom, living room etc.) and also has a small museum inside, with "samples" from some of his cases and stuff like that. I especially liked the room where there's a board and every visitor is welcome to attach his photo or his card to it. It was nice to see the faces and professions of those who visited.



from the Sherlock Holmes Museum



We joined Adam in the Madame Tussaud's queue, and after about 20 minutes we finally reached the entrance.
Madame Tusaud's is one of the most famous attractions London has to offer. The price is quite high (adults pay 12 pounds for a combined ticket : both Madame Tussaud's and the Planetarium, but if you don't want to see both you can buy a single ticket for either of them) but it's worth it. Get there as early as you can (it's opened from 10:00 till 17:30), because the queue is very very long. There's ofcourse a restaurant inside and a big shop, both for Madame Tussaud's and the Planetarium.
The museum is devided into areas. The first area is The Garden Party. We were shocked by the number of people who were in, and thought we couldn't possibly move around, but we were wrong. With a little patience (and the famous Israeli skill of getting into places fast) we were able to move around quite easily.
In this area you can see actors, actresses, TV hosts and other famouse people, some of them we never heard of...

from The Garden Party area.
After that we reached the Sports section, and saw sport stars like Muhamad Ali and others. Again, there were figures we never heard of.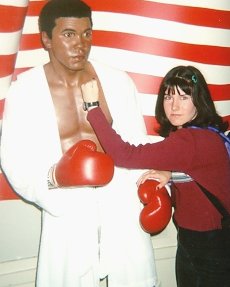 Hadas punching Muhamad Ali
After that, we saw a bit about the history of Madame Tussaud's, figures that are no longer a part of the show, and a bit about how the figures are made.
Hollywood Legends coming up next. You guessed it-- famous actors and actresses. Some of them looked like the real thing, BUT:

Elvis looked like a girl (with lipstick!!!).
Marilyn Monro looked really old.
Charlie Chaplin looked like a girl wearing makeup.

of some HollyWood Legends.
There's a special section with figures of politicians, statesmens, The Royal Family, writers and artists.

from this section.
The Chamber of Horrors came next. Figures of murderers, criminals, victims of Jack the Ripper, and a special section about The French Revolution. It's not that scary, but you don't have to see it if you don't want to (there's a special door for those who want to skip it).
"The Spirit of London"! you sit in a mini black cab and see parts of London's History with sounds, music and animated figures. Don't miss it!!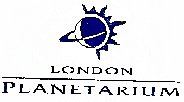 Time for the planetarium show. There's also an exhibition about space, astronauts, space ships etc, but we were a bit tired after walking around Madame Tussaud's, and wanted mainly to see the show. There's a show every 40 minutes. The dome is very big, the seats are very comfortable, it's dark, try not to fall asleep like I need.....
It's a lazer show, which is truely amazing and very very interesting. It's about the galaxy, the solar system , the planets etc.

Here are 2 postcards I bought in the Planetarium shop:


After we finished touring Madame Tussaud's (which took us about 3 hours), we went to Kensington, trying to do some shopping. Then we visited Harrod's (outrageous prices), went out to the street and again visited some shops :-)

We were supposed to be in a very special place at 19:45, and therefore went to Piccadilly Circus before that. we watched the street artists and the punks.
Here's a picture of them: (look at their hair!)

And now the time has come for......

Yes! We saw "The Phantom of the Opera"! :-) We saw it in "Her Majesty's Theatre", which is not far from Piccadilly Circus.
What can I say about it....It was absolutely AMAZING!!!! The actors, the music, the atmosphere, the amazing decoration and scenery. We had a side view tickets, row J, which didn't cost that much (17.50 pounds). What an experience!!!!

Here are songs from the musical in .mid format. To download them, point with your mouse on the link, press the right button and choose "save link as".
I took them from Laura's MIDI Heaven.

You can get the Musical's entire Lyrics from Laura's site too.