The previous day was so busy and full, and this day was certainly no less...

Of all the pictures we took in our trip, we have only one picture of the Big Ben. All the other pictures we took on our first day, at night, didn't come out....
In order to see the Big Ben, we took the tube and got down in westminster station.
The Parliament is near the Big Ben. There are two bobbies (british policemen) standing in the entrance. Can you see the British flag on the roof? (looking very dim)
| | |
| --- | --- |
| | Westminster Abbey is just near the Parliament. It's a very big and very beautiful building. You can go inside, but we didn't. There were a lot of people outside. We even saw boy scouts :-) |

of Westminster Abbey.
We walked to St James's Park, which wasn't far away.

St James's Park is such a beautiful place! It's the perfect spot to spend your morning in. We walked along the park, enjoying the air and the green and peaceful atmosphere. We looked at the different animals: the pelicans, swans, ducks, squirrels and other birds we didn't recognized. It's a really nice walk to Buckingham Palace, and you can sit on the grass or on a bench and have a little picnic there.

of animals in the park.
At the end of the park we reached Buckingham Palace.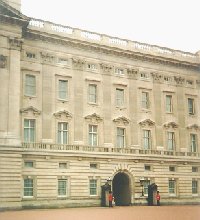 As we approached the Palace gates the amount of tourists just kept growing. I was a bit disappointed by the look of the Palace. It didn't appear to me as a very special-looking building. There are far more beautiful buildings in London than this, in my opinion.
As we got really close to the gates we saw this sign: No changing of the guards ceremony today. We were so disappointed! but we decided to come back tommorow to see it.







| | |
| --- | --- |
| The Royal sign, on the Palace's gate. | Adam talking with the bobbie in the Palace's gate. |
Buckingham Palace is the Official residence of the Queen.
The State Rooms at Buckingham Palace are used extensively by The Queen and Members of the Royal Family to receive and entertain their guests on State, ceremonial and official occasions. These magnificent rooms, which contain some of the finest pictures and works of art in the world, are only opened to visitors for a limited period each year.
Tickets are 9.50 pounds per person and can be purchased from the Ticket Office in Green Park. When you book your tickets you will be given a set time to start your tour.
Buckingham Palace is open from 9.30 and last entry into the Palace is at 16.30.
We took a bus to Regent Street to look for The Museum of Mankind. After much searching and looking around and asking people, we found out that the Museum's exhibition has moved to the British Museum!
So we made our way to the National Gallery instead.

The National Gallery was founded in 1824 and houses the national collection of Western European painting: over 2,000 pictures from 1260 to 1900. The Collection represents all the major European schools of painting and includes masterpieces by virtually all the great artists.
It is arranged by period in four wings:
Sainsbury Wing: Painting from 1260 to 1510 including Van Eyck, Piero della Francesca, Botticelli, Leonardo da Vinci, Bellini and Raphael.
West Wing: Painting from 1510 to 1600: including Titian, Cranach, Michelangelo, Holbein, Bronzino, Veronese and El Greco.
North Wing: Painting from 1600 to 1700 including Rubens, Van Dyck, Poussin, Claude, Vela'zquez, Rembrandt and Vermeer.
East Wing: Painting from 1700 to 1900 including Gainsborough, Turner, Constable, Renoir, Monet, Ce'zanne, Van Gogh and Seurat.

The admission is free.
Opening hours: Monday to Saturday 10.00-18.00, Wednesday till 20.00, Sunday 12.00-18.00.
Closed 1 January, Good Friday and 24-26 December.
There are shops and restaurants inside.
I especially liked the East Wing and the North Wing. I even bought a small Rembrandt print that was on sale, and of course - postcards.
Here are the 2 postcards I bought (this paintings are a part of the gallery's collection ofcourse)-
| | |
| --- | --- |
| A Van Gogh Painting. | One of my pavorite books has this picture on its cover. That's why I bought the postcard. |

London is filled with squares. On this day we visited some very famouse ones.

Piccadilly Circus is not a square, but it's a great place for hanging out. There are street artists offering tatoos, body art etc and playing music.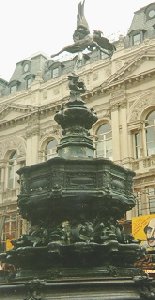 Eros, in Piccadilly Square.
Leicester Square has its street artists too. Human statue actors, players, clowns, it's a great place to be at noon :-) you can also sit in the garden and rest or buy tickets in the Half Price Tickets Booth, if you want to see a show.
Trafalgar Square is another great place to be at noon. It's situated just across the National Gallery. You can rest, feed the doves, get your portrait taken by one of the artists or just watch them at work. You can also see in the square Nelson's Column and Lions monuments.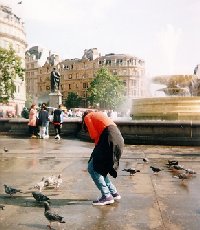 Hadas feeding the doves in Trafalgar.