Our first day of really touring the city :-)

We took the bus to St. Paul's Cathedral. We walked outside a bit, and then entered.
Here's my ticket -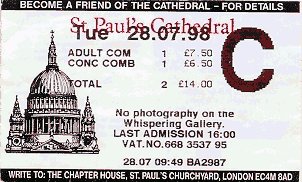 I made a special page about the Cathedral. please visit it by pressing on the ticket.

After our visit to St.Paul's, we walked to the Guildhall. Please visit the guildhall page I made by pressing the banner above.

And after that, the Barbican Centre. We visited the Art Gallery, and had a nice lunch outside, near the pool.
Please visit my Barbican page by pressing on the above banner.

We were already very tired, but decided to carry out our plans till the end and visit The Tower Of London.
Here's my ticket-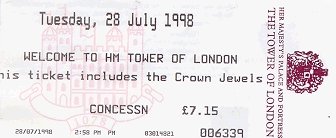 Visit the special page I made about The Tower Of London by pressing on the ticket.