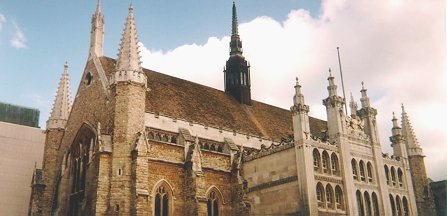 The City of London has been governed from the area occupied by Guildhall for over 800 years. Today Guildhall is home to the Corporation of London, the City's local authority, it's ancient walls housing a modern civic government steeped in centuries of tradition.
We didn't visit all of Guildhall. We visited the Great Hall and the Clock Museum.
The Great Hall is the setting for ceremonial and civic events, including the election of the Lord Mayor and the Sheriffs, and the Silent Ceremony at which the new Lord Mayor takes office. There are monuments in the Great Hall and statues of Gog and Magog.
Here is a picture of one of the monuments: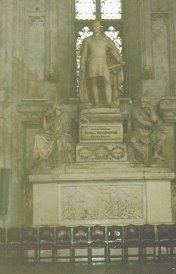 Guildhall Clock Museum


The Museum of the Worshipful Company of Clockmakers is to the left of GuildHall Library. Over 700 exhibits including watches, clocks and marine chronometers tell the story of 500 years of timekeeping.
Some of the clocks still work, and we heard them ring when it was 12:00 :-)
Opening hours Monday to Friday, 9:30 - 16:45
Admission Free.
Please notice that the entrance to the museum is not through the main entrance to Guildhall.